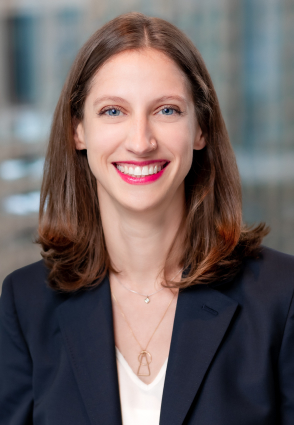 Biography
SJ Chapman (she/her) practices in the areas of estate planning, probate, real estate, and corporate law in New York and Illinois.  She lives in Brooklyn and manages the Chicago corporate headquarters team remotely. 
SJ tailors estate plans to each client's individual needs, from basic planning for clients who have a home and life savings, to new parents who want to name a guardian for minor children, to advanced planning for retiring or retired clients who are worried about losing their life savings to long term care costs.  She also helps clients with special needs family members to make sure their loved ones' public benefits are protected. 
SJ's corporate clients are in a variety of industries – breweries, education, marketing, fashion, pets and insurance.  She handles matters for corporate clients that include start-ups, shareholder and partnership agreements, buy-out agreements, social media policies, independent contractor agreements, consulting agreements and leases.  
SJ grew up in Wilmette, Illinois, attended UNC-Chapel Hill for undergrad, and graduated from Northwestern Law School with a distinction in public service.  
SJ is active in public service. She traveled to Tanzania through Lawyers without Borders to train magistrates, prosecutors and immigration officers on human trafficking law and procedure.  She volunteers with Wills for Heroes to draft wills and powers of attorneys for first responders.  She volunteers with the New American Initiative to assist immigrants in obtaining citizenship.  She is passionate about reproductive rights and assisted reproductive technologies. 
Prior to joining Bielski Law Office, SJ externed for Judge Ann Williams of the United States Court of Appeals for the Seventh Circuit, and Judge Timothy A. Barnes in the United States bankruptcy court, Northern District of Illinois.  In law school she worked under Professor Dorothy Roberts assisting with her book, "Fatal Invention: How Science, Politics, and Big Business Re-create Race in the Twenty-first Century."  
When SJ is not practicing law, she is doing anything she can to be outside: hiking, rock climbing, biking, snowboarding, trail running, ultramarathons, camping, or traveling the country in a campervan.   
SJ is proud to call herself a member of the queer female business owner community.