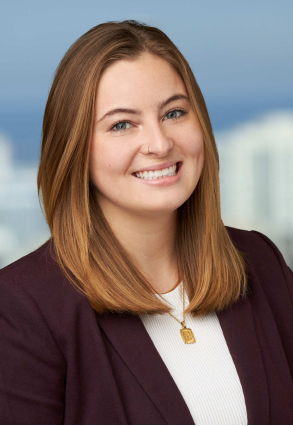 Biography
Josephine Schaut (she/her/hers) graduated from the University of Minnesota, Twin Cities in 2021 with a Bachelor of Arts degree in Political Science, Global Studies, and Spanish. 
She was able to study abroad in Toledo, Spain during her undergraduate education. Although shortened by the pandemic, this time allowed her to further her language skills and passion for politics and history in other countries. Prior to working at Bielski Chapman she interned and worked at various non-profits including The Advocates for Human Rights in Minneapolis, MN and Opportunity America in Washington, D.C.  
At Bielski Chapman, Josie's outstanding work as a paralegal quickly earned her a promotion to a Case Manager position, where she oversees the firm's marketing, outreach, caseload, and client management in the estate planning department.   
Josie likes to spend her free time exploring what Chicago has to offer.  Her hobbies include running along the lake, swimming, baking, trying new restaurants and spending time with her two orange cats, Annie, and Hallie. She spends many weekends traveling to Milwaukee, Wisconsin to visit her family. 
In the future, she hopes to either attend law school or receive her master's degree in International Relations.